Love 'em and Leave 'em is an initiative of Westchester County to reduce organic yard waste. Mulching in place is a time-tested method of turning old leaves into new soil. There are many benefits for homeowners, including a greener lawn and healthier soil, as well as benefits for the town and county, including "reduction in County yard waste tipping fees, labor overtime, fuel, and transportation costs, specialized equipment purchase and maintenance, prevention of storm drain clogging, etc." See more benefits of mulching-in-place on LELE's Homeowners page.
---
How to Get Started
Nervous about how LELE might look? Read detailed questions and answers in LELE's FAQ section and check out the short LELE video below.
---
5 Ways to Put Fall Leaves to Work in Your Garden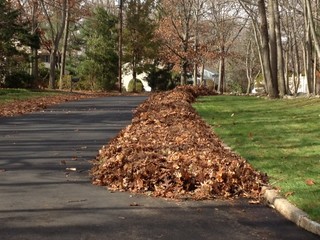 In fall my town holds leaf collection days, when homeowners (or their landscape services) blow or rake fallen leaves off their properties into big piles in the streets. Later a truck comes and vacuums them away. What I see being vacuumed up are dollar bills… [Read more at Houzz.com].
---
Using a Landscaper?
Landscapers who provide LELE services (PDF download)
---
Towns or Villages Adopting LELE
 As of September 2012
Bedford
Briarcliff Manor
Bronxville
Croton-on-Hudson
Chappaqua
Dobbs Ferry
Eastchester
Greenburgh
Harrison
Hastings
Irvington
Katonah
Larchmont
Mamaroneck
Mount Pleasant
New Castle
New Rochelle
North Castle
Pleasantville
Scarsdale
Sleepy Hollow
Tarrytown
Yonkers
White Plains